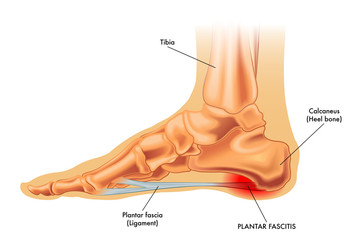 It is indeed an annoying and stubborn pain on treatment to the extent that it prevents its owner from moving, exercising, or even the least daily activities
What are the causes of soles of the feet?
There are many reasons, the most important of which is
Plantar fasciitis is the main cause (more than 70%) and is sometimes called foot thorn..of the less common causes
Achilles tendinitis
Bone tumors.
Bursitis
Haglund's deformity.
Osteomyelitis (inflammation of the bone)
Paget's disease of bone
There is no doubt that each case has a different treatment..but we are talking here about plantar fasciitis and how to treat it.
What are the causes of plantar fasciitis?
Plantar fasciitis can develop when there is constant pressure and pressure on the plantar fascia. This isn't just due to long-distance running or regular running. There are also some factors that can significantly increase your risk of this type of injury.
One of the most common factors that lead to this injury is not wearing proper shoes. Shoes that do not support your heel and bottom of your foot will increase your risk of developing this type of injury. You can also develop this injury when you don't warm-up and cool down properly before and after running. Also, when you always run on very hard surfaces, you tend to have stress on the bottom of your foot. Another malpractice that increases your risk of injury is when your mileage increases suddenly. As a beginner, it is always safe to run slowly but surely.
People who are severely overweight are also more likely to develop plantar fasciitis or plantar fasciitis.
What is the treatment for plantar fasciitis?
It is not surprising that plantar fasciitis persists for a few weeks, two months, or even a year, and it is a nagging and stubborn pain on treatment, so all measures must be taken to get rid of it
Short-term treatment includes
Applying ice to reduce inflammation. Do this for 20 minutes every two hours. You will see good results if you do this regularly.
There are also anti-inflammatory and pain medications that you can take.
Stretching your calf muscles a few times a day will give you great relief

Long-term treatment:
Make sure to use the right shoes
Exercising gradually while warming up.
maintain weight
Products we recommend
Hot or cold compresses
Medical shoes to treat heel pain and walk comfortably
Inserts or insoles to put in shoes to treat soles of the feet
Night stretching device for treatment of fasciitis
TECHCARE MASSAGER: A combination of TENS and PMS, a device that has been used by physical therapists and physicians for over 40 years. TechCare massagers deliver low-voltage pulses to the skin to effectively stimulate nerve fibers that block the pain signal to your brain. It also increases natural endorphins and eliminates the use of painkillers

Courses we recommend:
A course to get rid of heel pain and plantar fasciitis includes a great program to get rid of pain in a very short period
The best weight loss program
With best wishes for safety to all
CLINICHOMES.COM